Clerk
CINDY SHESKEY
Cindy previously served as clerk from 1991 to 1998 and began this term in May 2010. She does not hold regular business hours. Call her at (920) 291-7743 for an appointment. Cindy enjoys time with her family, gardening, beekeeping, and "up"cycling sweaters into mittens.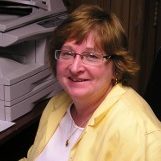 Treasurer
KATIE MEHN
Katie Mehn was appointed as our new Town Treasurer,
October 1, 2022.
She enjoys spending time with her family.